When it comes to stylish Headboard Bed Designs a sleek or sophisticated headboard design polishes off a space. Various choices of headboard materials–from wood to fabric to metal–also set the tone for the room. Beyond that, hundreds of choices exist in terms of fabric tufting, colors, heights, and more, which makes a headboard truly your own. Whether you prefer chic, elegant, or simply comfortable, a headboard exists to match.
Contoured Fashion
Image: Source
While this headboard boasts basic tufting style, it enhances its stylish spot in this bedroom by curving around the head of the bed. Meanwhile the matte gray fabric allows for the bold curtains and patterned chair in this fashionable room.
Gray and Oak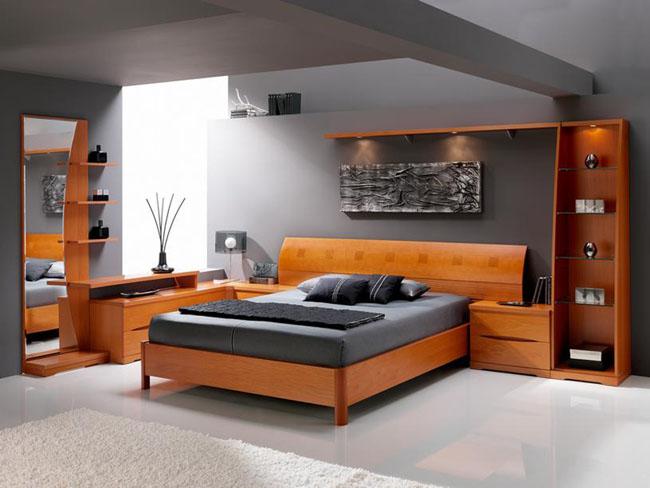 Image: Source
A unique shelving unit stretches over the top of this simple headboard and also sheds light on the statement art hanging above the bed. The oak finishes throughout the room exactly match to give a seamless flow from the closet to the far shelf.
Lush Purple
Image: Source
The unique square upholstery of this headboard in rich purple are an immediate show stopper. Subsequently, two large mirrors and low hanging light fixtures keep the drama of this purple room going.
Simple + Rustic Headboard
Image: Source
Two clean, white panels draw eyes to the head of the bed. Then, focus travels upward to the bold black shelves (which perfectly complement the dark wood bed frame) and the chic white light fixture dangling against a rustic, gray wood wall.
Asymmetrical Headboard
Image: Source
Although made from two different materials and on two asymmetrical layers, this headboard works into the modern, clean style of the room. Paired lights hang down from the ceiling while a plush white rug adds texture to the room.
Bold Patterns
Image: Source
The simplicity of the rest of this bedroom play well with the near-optical illusion that is this headboard. Parallel features within the room also keep the space from looking too busy.
Wood + Fabric
Image: Source
Another asymmetrical design, the medium oak tone of one layer of this headboard flows into the bed frame and built-in side tables. Meanwhile a second layer of headboard appears to have cream fabric draped over it that complements the light tones evident throughout the rest of the bedroom.
Modern Retro
Image: Source
A classy color scheme and various fabric choices make this bedroom a juxtaposition of the retrospective and the modern. The upholstered headboard reminds you of an old cafe booth, while chic white accents, a patterned rug, and concrete walls are unmistakably contemporary.
Completely Tufted
Image: Source
Several styles of tufting find their way onto this unique bed set. A deep, diamond style gives the headboard a bold appearance, while a softer button tufting accents the rest of the upholstered bed frame.
Tetris-Inspired Headboard
Image: Source
This extremely modern, floor-to-ceiling headboard is enough to cause reminiscences of Tetris. Various cutouts become functional shelves while differing column widths and floating aspects of this headboard reduce the need for any other decoration within the room.
Statement Headboard
Image: Source
The stone-esque look of this headboard stretches almost completely to the ceiling and creates an entire wall of art in this otherwise neutral room. Rather than add more detail, it works best to keep the rest of the room simple and clean with a headboard this dominant.
Back-Lit Bedroom
Image: Source
This backlit headboard complements the style of the statement wall behind this bed. In fact, lights around the room (including on the steps up to the bed itself) set the mood without harsh direct bulbs and instead through soft hidden backlighting.
Velveteen Dreams
Image: Source
Choosing an atypical fabric can give your headboard some extra drama. For instance, this velvet headboard appeals to both eyes and touch; plus, it works well the neutral tone bed and soft, velvety throw blanket.
Simple Tufting
Image: Source
Though this headboard is simple, it adds a certain refined air to the bedroom. With basic tufting on a bright white fabric, it contrasts well against the slate gray walls and neutral, satin bed sheets.
Wooden Stretch
Image: Source
Rough-hewn wood becomes a natural fit in this bohemian chic room. In addition to its style, this headboard stretches all the way across the ceiling with matching chandeliers hanging from each side and nature-inspired art and bedding enhancing the outdoor feel of the space.
Setback Headboard
Image: Source
This recessed headboard creates a cozy, chocolate brown space. While overhead lights show the deep square pattern of the headboard, matching bedside lamps help this room ooze romantic lighting.
Upscale Cubes
Image: Source
Against a subway tiled wall, this statement headboard and bed frame stand out. Upholstered in a bright white with small square tufting, it also adds enough dimension and class to secure this bedroom's spot in any upscale home.
Versatile Backdrop
Image: Source
This headboard, which uses classic black as a base color, has a unique square design carved into the painted wood. Because of its standard coloring, it works as a wonderful backdrop for any accent colors in the bedroom.
Deluxe Headboard
Image: Source
Basic tufting is enhanced by a pearly satin fabric and black ribbon intertwining across this lavish headboard. Set against an intricately carved wall, it also manages to stand out in this opulent bedroom.
Mod, Solid Headboard
Image: Source
The solid color of this modern headboard keeps the room from looking too busy and also heightens the off-center accent windows and unique artwork. Long, letterbox-esque bedside tables match the room's angular theme, while wavy vases and kinked lamps hanging from the ceiling hit just shy of retro.
Since a stylish headboard adds its own pizzazz to a room, it also reduces the need to add multiple design elements. In fact in many cases, a statement headboard becomes the only focal point necessary to completely revamp a space. If you love simplified style, you can also check out our post 20 Endless Possibilities With Bedroom Mural Wallpaper.